September 29, 2017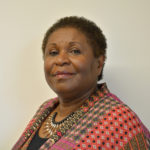 BOSTON – The Board of Directors of The American City Coalition (TACC) today announces the appointment of Charlayne Murrell-Smith, Roxbury resident and Vice President at Boston Children's Museum, to the Board of Directors.
"We are excited to add Charlayne's insights as both a resident and leader," said Christine Araujo, Executive Director. "Her wide range of experience will aid TACC as it addresses the changing needs of Roxbury."
"With TACC focused on Roxbury, I want to be able to contribute to its strategic vision for the neighborhood I call home," said Murrell-Smith. "TACC's unique and collaborative approach makes it an organization I want to contribute to as a board member."
As Vice President of External Relations and Corporate Development at Boston Children's Museum (BCM), Murrell-Smith stewards the museum's stakeholder civic, community, corporate relationships to advance its mission, programs, public profile, and financial health. She also plays a pivotal role in BCM's many outreach initiatives benefitting the children and families of Boston and beyond.
Murrell-Smith is the recipient of a Pinnacle Award for achievement in non-profit management from the Women's Network of the Greater Boston Chamber of Commerce. She has received several recognitions, including EXTRAordinary Women of Boston by the Mayor's Office of Women's Advancement, 100 Most Influential People of Color by Get Konnected and the National Center for Race Amity at Wheelock College, Leading Women by the Girl Scouts of Eastern MA, and Harbor Hero by Save the Harbor/Save the Bay.
Her current affiliations include the Boards of Directors of the Boston Children's Chorus, Friends of Fort Point Channel, Friends of Martin's Park, Inc., Greater Boston Chamber of Commerce Foundation, Third Sector New England, Seaport TMA, Wellesley College Alumnae Association, and YMCA of Greater Boston. She is also on the advisory boards of Boston Harbor Now and the Greater Boston Chamber of Commerce Women's Network and Hospitality and Tourism Leadership Council.
A resident of Roxbury, Murrell-Smith holds a BA from Wellesley College and a MEd from Northeastern University. Prior to joining BCM, Murrell-Smith was Director of Client Services and Strategic Planning for the Greater Boston Chamber of Commerce, where she was responsible for the coordination and delivery of programs and services to Chamber members and functioned as its chief operating officer. She has also served as Project Vice President and General Manager of the Wishnow Group, Inc., a public affairs consulting company specializing in local and national social issues campaigns; Community Affairs Director of WHDH-AM and WZOU-FM; and was a guidance counselor in the Cambridge and Newton Public Schools.