Fairmount Indigo Corridor | Boston, MA

About
At the July 7, 2013 opening of a new MBTA Fairmount Indigo commuter rail line station, former Massachusetts Governor Deval Patrick said, "We all know that reliable public transportation translates into jobs, economic opportunity, and a higher quality of life." In Boston, transit equity remains a barrier to economic opportunity for many; the Fairmount Indigo Line is at the core of this inequity. The persistent organizing of many community-based organizations over the past few years yielded both improvements in service and an increase in the number of stations.
In support of this ongoing work, TACC has conducted planning activities on the individual building and parcel, neighborhood, and corridor scales. These projects have helped catalyze increased attention and resource deployment, including the city-led
Fairmount Indigo Planning Initiative
, in which TACC participated.
Currently, our focus is to initiate local economic development projects, as well as remove systemic obstacles impeding corridor-wide economic development. Our goal is to help the community capitalize on the existing transit improvements while also helping to advance the campaign for comprehensive transit equity.
People and Place

Location: MBTA Fairmount Line in the Boston, MA neighborhoods of Roxbury, Dorchester, Mattapan, and Hyde Park
Length: 9.2 miles
Residents: 90,000
Unemployment rate: 15.6%
Average household income: Below $40,000
Our Impact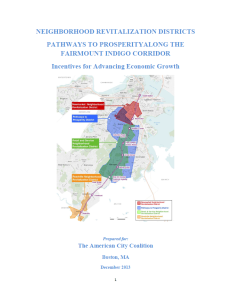 ATTRACTING, RETAINING, AND SCALING EMPLOYMENT OPPORTUNITIES
Over the past several years, TACC has helped to lead a discussion around the need for a focused, deliberate business attraction and retention strategy for the Fairmount Indigo Corridor. During a period of economic growth in the Boston region (2.6% average GDP growth since 2009, according to the U.S. Department of Commerce), increased prosperity has not impacted all of Boston's neighborhoods equitably, and employment rates and the median income remain lower within the Fairmount Corridor than in Boston as a whole. Overall, there has been a limited focus on a systemic approach to the business environment that builds tangible opportunities for upward mobility for residents of the corridor by creating jobs closer to home. While transportation and access to jobs in other areas of Boston is important, access to jobs within the corridor is also critical; jobs "anywhere" are not enough, as geographic proximity increases the likelihood that an inner-city resident will be hired for a job by 50 percent. ("Connecting Inner Cities to Regional Economic Development Strategies," ICIC)
Phase I: As a first step, we commissioned and disseminated a study, "Neighborhood Revitalization Districts: Pathways to Prosperity Along the Fairmount Indigo Corridor, A Guide to Incentives for Advancing Economic Growth," highlighting the potential economic impact of specific tax incentives that would only be triggered through sufficient local hiring. The study, forecasted benefits within the first two to three years of implementation that include:
1,900 new jobs

1,250 of these new jobs would be held by residents of the Pathways to Prosperity district, a wider 7.76 square mile zone along the corridor. Employees hired from this district would benefit from an elimination or reduction of payroll and income taxes.

195 new or expanded businesses
Phase II: Our current work focuses on going deeper and refining our recommendations in order to identify specific zoning, tax, and regulatory incentives (as well as the marketing of natural incentives) for both the retail and industrial districts of the Fairmount Indigo Corridor that can help attract, retain, and scale businesses. We are currently undertaking a nine-month process in close concert with a steering community consisting of service providers, businesses, trade and industry groups, and city and state officials. The goal is We are partnering with Boston Local Initiatives Support Corporation and the Initiative for a Competitive Inner City, tapping into their experience and expertise on both the local and national levels. Our process casts a wide net, examining not just what has worked in Boston, but also national best practices. 
Our goal is the creation of an actionable strategy that provides a cogent case for the allocation of city and state resources towards a place-based business development strategy. Nothing less will have the impact needed to create scalable economic opportunity for residents of the corridor.
COMMUNITY PLANNING AND LOCAL ECONOMIC DEVELOPMENT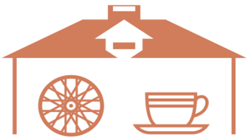 The Bike Kitchen at Upham's Corner
The Comfort Station, originally built as a component of the extensive streetcar network which ran along Columbia Road, abuts the historic North Dorchester Burying Ground, and has been vacant since the mid-1970s. The building, with its distinct terracotta roof, has been the focus of repeated efforts by the city to find a new, productive use for the building, and the city issued a new RFP for the building in Fall 2014.

Working in close collaboration with the nonprofit developer Historic Boston Incorporated (HBI), and Noah Hicks, the founder of the Bowdoin Bike School, we crafted a redevelopment proposal that
would preserve an important piece of historic architecture, reactivate a long-abandoned building, and reconnect the Comfort Station to its original transportation-related roots. In May 2015, the City of Boston named our partnership for the redevelopment work.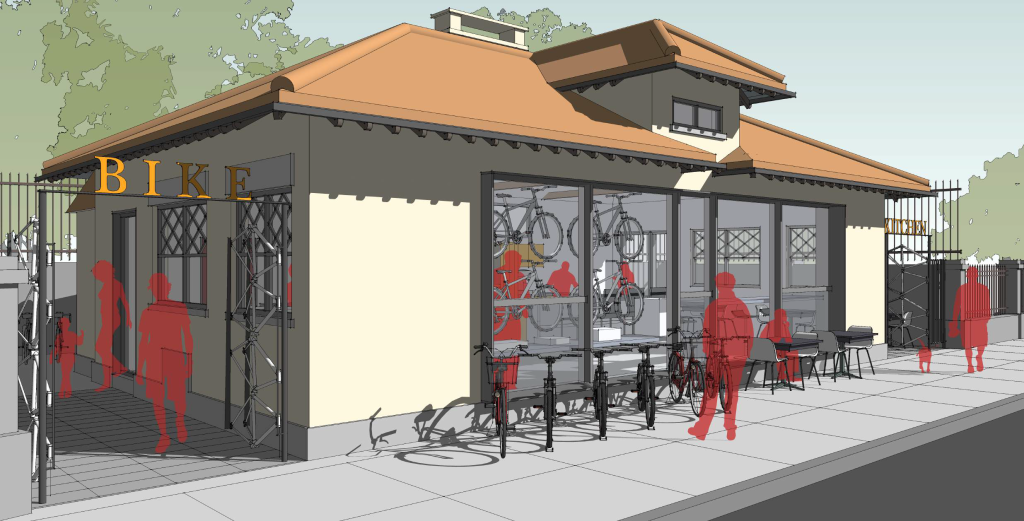 For TACC, this type of work falls right in our wheelhouse and aligns with our other place-based work in Upham's Corner and Newmarket, requiring a focus on both envisioning strategies that can improve the built environment, but also linking this physical change to a thoughtful use that delivers community benefit and economic opportunity. This project aligns with community goals, preserves and reuses a historic building, promotes economic development, supports and advances a mission-oriented entrepreneur and business, promotes economic opportunity with three (3) FTE jobs and fifteen (15) construction-period jobs, and promotes and supports multi-modal options and transportation-oriented enterprises. We think this model of early, close partnership between developer, tenant, and non-profit is valuable, replicable, and scalable, and is a strong model to align local economic development projects with community preferences.
Related Documents