Harbor Point | Boston, MA

About
By the 1970s, Columbia Point, a federally funded 1,500-unit housing development built in the early 1950s in the Dorchester section of Boston, had failed. The conversion of the property into Harbor Point on the Bay, a 1,238-unit mixed-income community, was the largest successful conversion of public housing into mixed-income housing. In realizing this pioneering residential neighborhood, Joseph E. Corcoran, our founder, partnered with a coalition of residents and community organizations to ensure that local knowledge and quality of life needs shaped the future of Harbor Point. Today, the conversion of Columbia Point into Harbor Point remains a model for the deconcentration of poverty and the preservation of affordable housing; the project informed the United States Department of Housing and Urban Development's HOPE VI plan and eventually, the Choice Neighborhood Initiatives program.
People and Place
Location: Columbia Point, Dorchester, MA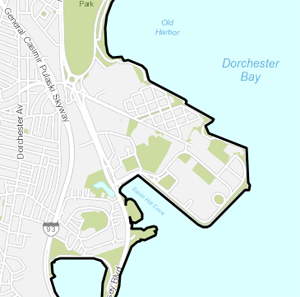 Mixed-Income Housing Units: 1,283
Residents: 3,228
Harbor Point is located on Mount Vernon Street in the Columbia Point section of Dorchester. Just two miles from downtown Boston, Columbia Point is also home to well-known institutions such as the John F. Kennedy Presidential Library, the new Edward M. Kennedy Institute for the United States Senate, University of Massachusetts-Boston, and the Dever-McCormack K-8 School, a Boston public school that serve over 1,300 students, many from Harbor Point.
Our partners on this engagement included:
Harbor Point Community Task Force
Our Impact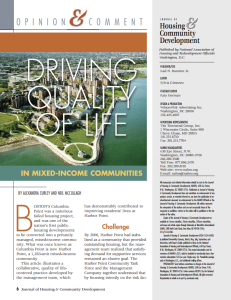 TACC released a paper on the Quality of Life management approach at Harbor Point. "Driving Quality of Life in Mixed-Income Communities" was published in the Journal of Housing & Community Development (May/June 2013). The paper documents "a collaborative quality of life-centered practice developed by the management team, which has demonstrably contributed to improving residents' lives at Harbor Point." This new Quality of Life management approach is a uniquely collaborative and resident-focused process that brings together a core group of management, public safety, resident services, resident's council, and ownership to contribute to the safety, health, and operation of the community.
In addition, recent technical assistance at Harbor Point includes:
COMMUNITY PLANNING

Complete Streets: Facilitated a Complete Streets Planning Initiative focused on the redesign of Mt. Vernon Street into a multi-modal corridor, which will be equally accessible to pedestrians, bicyclists, public transit, and cars. In the press release accompanying the release of an RFP for the street, the Boston Redevelopment Authority credits TACC for the initial study that led to the RFP; they write, "TACC's…concept plan proposes specific strategies to support the anticipated increase in residents, students, workers, and visitors along the mid-section of Mt. Vernon."
Smart Growth: Worked with Harbor Point and other large entities in the neighborhood including University of Massachusetts-Boston, the John F. Kennedy Presidential Library, and the Boston Redevelopment Authority to prioritize and advance smart growth concepts.
SUPPORTIVE STRATEGIES
Education: After a needs assessment, we advised the residents' association and property management on strategies for improving the quality of education and monitoring the performance of Harbor Point's youth. Today, over 400 children are participating in an educational data sharing agreement so that the school, home, and community can work together to support the needs of each child. TACC also expanded summer camp opportunities for young residents. Today, girls between the ages of 7 and 15 have access to an award-winning mentoring program operated by Big Sister Association of Greater Boston.
Effectiveness:

Monitored and evaluated the effectiveness of supportive services provided by the community's contracted supportive services provider, Housing Opportunity Unlimited. TACC recommended a revised strategy and evaluation system for the Harbor Point Community Task Force to strengthen services delivery.
Related Documents