Oak Hill | Pittsburgh, PA

About
Working with the Oak Hill Residents' Council and the Urban Institute, TACC is bringing Housing Opportunities and Services Together (HOST), an innovative dual-generation supportive service model, to Oak Hill Apartments, a mixed-income community located in the Hill District of Pittsburgh, PA. The HOST model helps parents address key barriers to self-sufficiency while simultaneously integrating supports for children and youth to achieve their full potential. "The foundation for a truly thriving community at Oak Hill has been put in place, and as a result, today the residents will benefit from more intensive services to improve quality of life, educational outcomes, and new economic opportunities," said Neil McCullagh, Executive Director for TACC. "The HOST model provides a unique framework for partnerships between the Oak Hill community and local non-profits, educational institutions and other organizations, and we are eager to partner with those who want to work closely with Oak Hill residents to further strengthen this neighborhood."
People and Place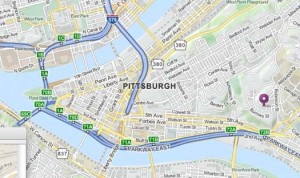 Location: Pittsburgh, PA
Mixed-Income Housing Units: 718
Residents: 1,240
Oak Hill is located at the intersection of Pittsburgh's Hill District and Oakland neighborhoods.  What was once Alequippa Terrace, a distressed public housing development, Oak Hill Apartments are now a mixed-income community which is home to a diverse range of families, elderly, and students. Of the 718 units, 470 are subsidized units for public housing residents. The majority of these households are African-American with an income, on average, of less than $10,000 per year. The community houses Wadsworth Hall, a large community center for services and activities, the Beverly Jewel Wall Lovelace after-school program, the Matilda Theiss Health Center, and a small convenience store. Housing Opportunities Unlimited (HOU) provides walk-in and lease compliance support to residents.
Having undergone a dramatic transformation from a distressed public housing community, Oak Hill is a highly desirable community of townhouses and mid-rise buildings, basketball and tennis courts, swimming pools, and sidewalks. The neighborhood includes the University of Pittsburgh, Carlow University, multiple hospitals and medical centers, a new YMCA, the Hill House, and an array of service providers.
Despite the improved living conditions and the abundance of resources in the neighborhood, many residents still struggle to make ends meet and confront complicated barriers to self-sufficiency, including the poor physical and mental health, unresolved trauma, addiction, low literacy, and weak attachment to the labor force. HOST will provide intensive case management to address these needs.
Our partners in this engagement include:
Oak Hill Residents' Council
Our Impact
TACC is working with committed national and local partners to assess and strengthen services for the residents of Oak Hill. This engagement started with a community needs assessment survey; TACC identified unmet needs through the analysis of data collected in the survey. TACC then looked broadly at potential models to address unmet needs and identified the innovative HOST model. Working collaboratively, we are now bringing HOST to Oak Hill in order to improve the lives of local residents and contribute to the national dialogue around service delivery options for public housing residents deemed hardest to house.
COMMUNITY NEEDS ASSESSMENT

The Oak Hill Residents' Council and the management company sought out TACC to assist in the development of a strong supportive service strategy to address some of the unmet resident needs in the community. In 2012, TACC conducted a community needs assessment survey of 145 adult residents. The 41-page report concluded that youth services and mental health supports were a high priority for residents and areas of need not being fully met in the community.
HOST MODEL
Framework and Planning: TACC identified the HOST model as a promising framework for improving outcomes for residents. HOST is an evidence-based model developed by the Urban Institute. Now in a six-month development process, TACC and the Urban Institute are building strategic partnerships in Pittsburgh to improve the social, health, and educational outcomes for the community. The planning work includes conducting a services and resource inventory, meeting will key service providers working both in and outside of the community, identifying strong HOST partners, and meeting with and obtaining the support of foundations in Pittsburgh.
Service Component Launch: The first HOST service component was launched in June 2014 when, with the support of The Grable Foundation, two Youth Outreach and Services Coordinators joined the staff on site at Oak Hill. The coordinators will conduct outreach to 200 elementary to high school youth living on the property and connect them to the wide array of programming and services available on site and in the larger Oakland and Pittsburgh communities. The summer months are a critical period for school-age youth; hiring coordinators this summer is a strategic first step in launching the HOST model at Oak Hill. After the summer break, HOST plans to transition the Youth Outreach and Services Coordinators into a full-time position working with youth during the school year. This position will help to lay the foundation for HOST's wraparound family services and will provide TACC and the Urban Institute an opportunity to begin our outcomes and process evaluation--a first step in determining new, best practices in effectively improving outcomes for high-need families in public housing. 
Dissemination and National Dialogue: Few demonstrations model a range of service delivery options for public housing residents, and even fewer focus on those deemed hardest to house. Oak Hill represents HOST's first launch in a privately owned/managed mixed-income site and an opportunity to develop a framework that can be utilized by others; national organizations, including the United States Department of Housing and Urban Development, have expressed interest in this model. TACC and the Urban Institute are committed to disseminating information in order to inform the work of others in the field and contribute to the national dialogue. The lessons from this evidence-based practice will be shared with housing authorities, departments of human services, social service agencies, and private housing developers both in Pittsburgh and at the federal level in Washington, DC where the Urban Institute is located.
Related Documents