Big Sister and Harbor Point Community Task Force
About
Harbor Point Community Task Force is an active resident association for Harbor Point, a 1,238-unit mixed-income neighborhood in Dorchester, MA. The community's 3,228 residents also share equally in the governance and decision making with property management. The Community Task Force and the property managers asked TACC to assess educational opportunities for young residents and, in particular, develop a program that was responsive to the needs of girls residing at Harbor Point. TACC initiated contact with the Big Sister Association of Greater Boston and developed a pilot program to match 25 girls to mentors. Now in the second year of operation, this community partnership brings together the needs of residents and property management with the expertise of Big Sister in a high performance program that is achieving quantitative and qualitative results.
To learn more about Big Sister and Harbor Point Community Task Force, visit their website.
Our Partnership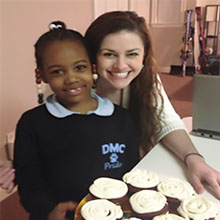 In 2014, Big Sister named the collaboration between TACC, Harbor Point Community Task Force, and property management the Community Partnership of the Year. Mia Roberts, Vice President of Recruitment and Community Partnerships at Big Sister, explains why this partnership is exceptional. "This partnership stands as an example of what can be accomplished when everyone has mutually established goals and holds each other accountable to the community's need. Collaborations can be tough, even with just two organizations involved, but all the pieces came together at Harbor Point. This partnership is an example of what organizations can do together when all oars are in the water and everyone is rowing together."
In its pilot year, the mentoring program served 22% of girls between the ages of 7 and 15 residing at Harbor Point; the strategy aims to create a "tipping point," where quality work with a concentration of girls in one neighborhood changes the culture.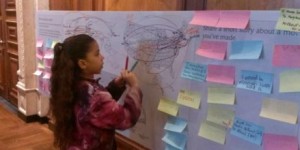 According to Orlando Perilla, Chairman of the Harbor Point Community Task Force, the strategy is working. "Residents are very happy with the attention that their children are getting from Big Sister. They are creating opportunities that just did not exist for these young people before. It makes a big difference for these girls to have another ally out there and it makes a big difference to the Community Task Force to work with Big Sister, an organization that continually strives for excellence. In the end, the result is the improved well-being of girls at Harbor Point." The mentoring program complements Harbor Point's unique Quality of Life management approach that brings together property management, public safety, resident services, Harbor Point Community Task Force, and owners to contribute to the safety, health, and operation of the community.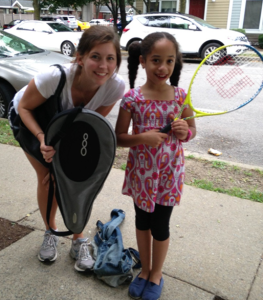 Big Sister and the Community Task Force see TACC's broad knowledge of strategies used in other mixed-income communities and TACC's experience mobilizing resources to support low-income residents at Harbor Point as critical to this program's success. According to Roberts, "TACC has a perspective on what is going on in other communities; they know about the tools, strategies, and approaches used elsewhere, so we don't have to reinvent the wheel."
While the four groups involved in this project shared a natural affinity and common mission from the start, TACC helped to shape this allegiance into clearly articulated goals with measurable outcomes. In monthly meetings, all partners used the same rubric and numbers to assess and measure their progress.