TACC is a thought leader, sharing and researching best practices for communities and real estate development.
Research
Working with LISC Boston, Initiative for a Competitive Inner City, the Fairmount Indigo Network, and other stakeholders, TACC developed a series of recommendations to attract and retain businesses and jobs in the Corridor.
 TACC contributed research to this current scan of the field which provides an initial picture of how mixed-income developments across the U.S. are providing services to improve residents' well-being and self-sufficiency. Online surveys were completed by representatives of 60 mixed-income developments on the demographics and characteristics of their site, the types of support and social services that are available for residents, the scope of efforts to track and assess service use and outcomes, and perceived outcomes of these services.
Urban renewal and public housing policies of the mid-twentieth century led to disproportionately high densities of public and subsidized housing in Lower Roxbury; this resulted in concentrations of poverty, crime, and economic stratification. In this study, TACC develops a scenario that uses all of the available vacant and underutilized property in Lower Roxbury to demonstrate how affordable housing can be preserved without the loss of a single unit. The study examines how the challenges in Lower Roxbury can be overcome through focused, place-based investment, policy development, and social programming.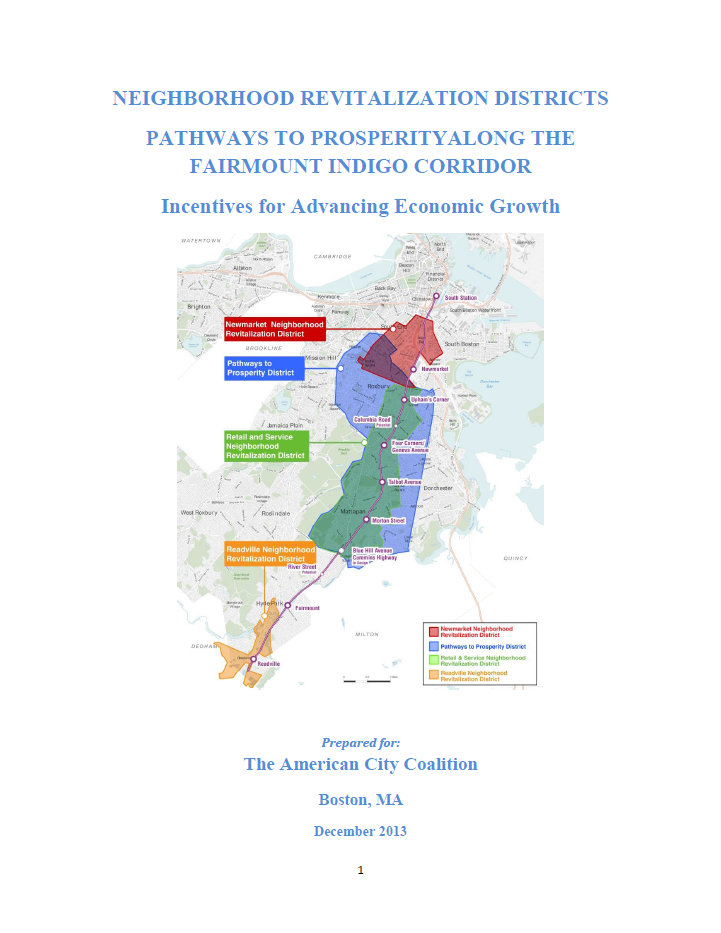 This paper analyzed the feasibility of implementing four neighborhood revitalization districts along the Fairmount Line Corridor in Boston, MA and presents the concept of neighborhood revitalization districts and explains how the districts address underlying economic issues rather than focusing on one specific problem.
This paper documents a collaborative quality of life-centered practice developed by the management team, at Harbor Point, a 1,238-unit mixed-income community in Dorchester, MA. This new Quality of Life management approach is a uniquely collaborative and resident-focused process that brings together a core group of management, public safety, resident services, residents' council, and ownership to contribute to the safety, health, and operation of the community.
This whitepaper outlines the argument for investment in the Lower Roxbury section of Boston, MA. TACC is supporting neighborhood organizations and local government with research and planning to advocate for the future implementation of a multi-stakeholder intervention with housing and a strong supportive services components.
This study documents the achievements of a collaborative planning exercise and provides clear schematics and strategies for creating a model walk to work community in the Newmarket and Upham's Corner sections of Boston, MA.  It articulates a consensus view on redevelopment priorities and an opportunity catalog that compiles specific ideas for developing 19 sites. Since its publication, the Boston Planning and Development Agency and other public and private entities have utilized the study to support the planning work of the Fairmount Indigo Line Planning Initiative and adjacent neighborhoods.
News

 Next City: Fixing a Highway-Shaped Hole in the Heart of Black Boston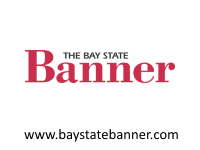 Bay State Banner: Boston's Third Cultural District Designation
Bay State Banner: Roxbury Gets $30M Revitalization Grant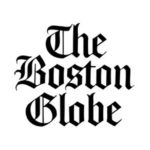 Boston Globe: Roxbury Gets a Cultural Boost
Boston Globe: Roxbury Housing – Whittier Choice

Dorchester Reporter: Fairmount is the Future
Winter 2017
Summer 2017
Summer 2016
Winter 2015
Fall 2014
Spring 2014
TACC Articles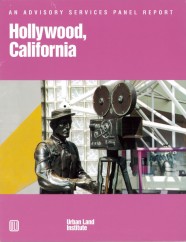 This study documents the history, existing conditions, and recommendations for the revitalization of Hollywood, California, one of the most famous and recognizable locations in the world.  Hollywood has gradually depopulated and developed a crime-ridden and seedy image. The Hollywood Chamber of Commerce and TACC partnered to bring a Urban Land Institute (ULI) Advisory Service panel to Hollywood to address how this area could build upon new initiatives, including $1.5 worth of commercial development underway, yet continue to keep its unique character and, ultimately, become a better place to work, visit, and live.
This study is an evaluation of revitalization strategies for Roxbury and presents recommendations for further action. The study was conducted in collaboration with the Urban Land Institute and brought together experts from around the United States with the sole purpose of generating a high-level shared vision for actions that would contribute to the revitalization of the Roxbury neighborhood in the City of Boston