Our Mission
To help revitalize urban neighborhoods so that families flourish in safe environments and fully benefit from the economic opportunities of American cities.
Our Approach
The American City Coalition (TACC) is a 501 (c)(3) nonprofit organization grounded in an inclusive, comprehensive, and collaborative approach to neighborhood revitalization.
The emergent strategy that TACC adheres to has Roxbury as a focus area where TACC identifies and develops programming and projects that respond to the neighborhood's assets and needs. With this approach, TACC seeks to increase collective impact by aligning the skills of partners within defined program areas and identifying and engaging complementary partnerships and resources.
TACC provides technical support and assistance to advance multi-sector and multi-stakeholder partnerships that focus public and private investment to improve the quality of life for Roxbury families.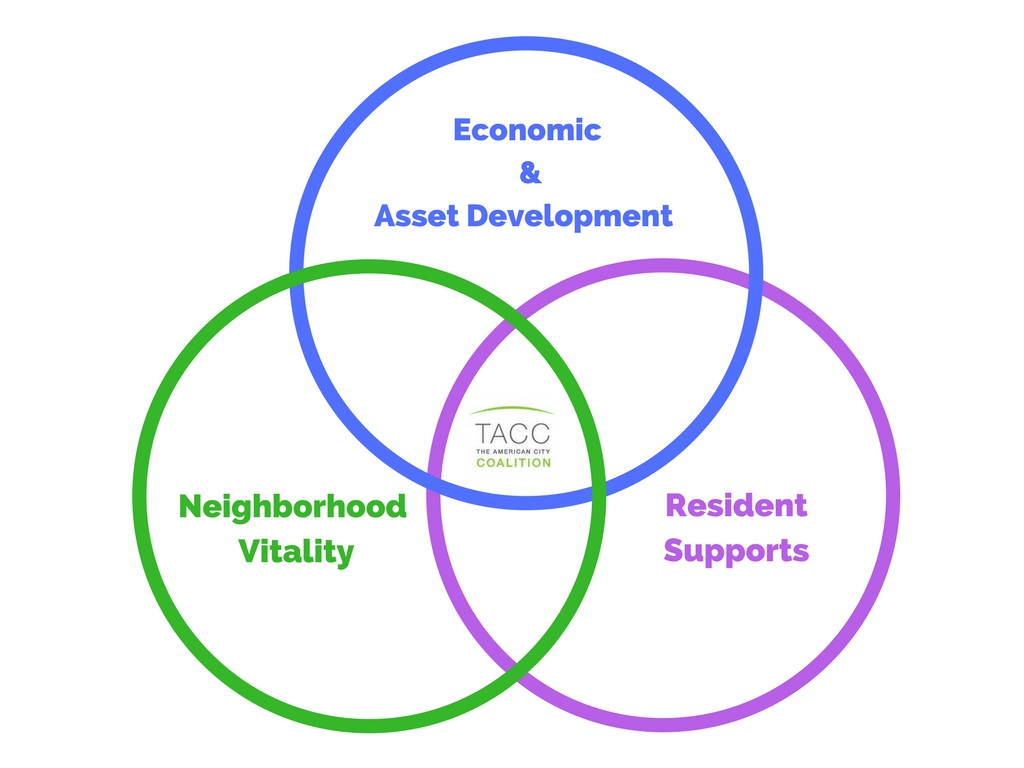 Our Programs: Connecting People to Place
1. 
Resident Supports
Values connecting individuals and families with the essential services and information needed to support their well being and mobility.
Strategies include conducting in-depth resident needs assessments to collect data for designing and piloting innovative program models, and serving as a local resource on national best practices on supportive services in mixed-income communities with policy makers, housing authorities, developers, service providers, and property management companies.
2.
Economic and Asset Development 
Advances strategies that strengthen asset and wealth creation pathways for residents including credit enhancement and home ownership.
Strategies include identifying achievable public policies to stimulate business attraction and job growth as well as short- and long-term approaches that can strengthen local business ecosystems within retail, commercial, and industrial districts.
3. Neighborhood Vitality
Supports multi-sector partnerships that improve the neighborhood environment and facilitate long-term, positive neighborhood investment.
Strategies include advancing thoughtful real estate development projects that are responsive to the community's needs and opportunities and aligning community partners in sustainable entities to increase collective impact.