COMMUNITY-DRIVEN DEVELOPMENT IN ACTION IN ROXBURY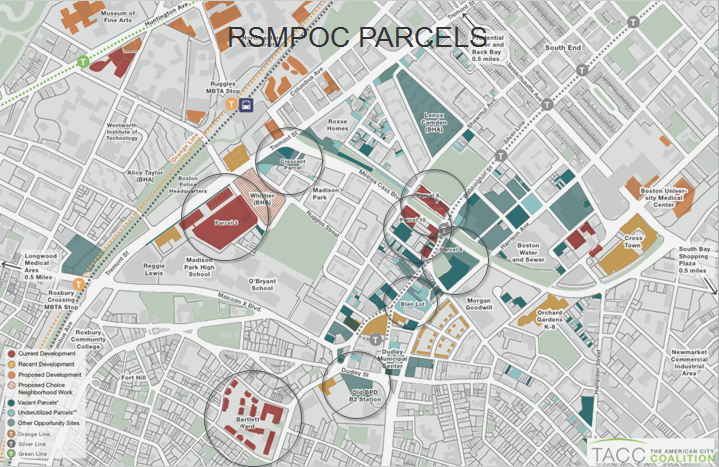 Walking around Dudley Square in the evenings, I find it difficult to imagine the neighborhood was once considered the "other downtown" of Boston. Today, empty streets mask a history of bustling hotels, a destination department store, a bowling alley, a vaudeville theater, and a cinema. In the mid-to-late twentieth century, destructive urban renewal policies, arson, and property abandonment left the once-lively commercial center of Dudley Square and the surrounding Lower Roxbury distressed.
As I learned, the Boston Redevelopment Authority (BRA) and Mayor Menino launched a long-term planning agenda in 2004 for the neighborhood—the Roxbury Strategic Master Plan (RSMP). Recognizing the power of land use to drive neighborhood revitalization and increase quality of life, the RSMP identified strategies to return Roxbury to its legacy as an economic and cultural engine of Boston. The Roxbury Strategic Master Plan Oversight Committee (RSMPOC) was formed as a product of this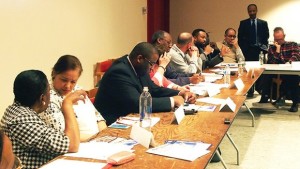 planning initiative to ensure that development in Roxbury is a community-driven process. Specifically, the RSMPOC oversees the disposition of eight city-owned parcels in Roxbury. In bimonthly meetings, the committee develops RFPs, hears updates from developers, considers community concerns, and advocates for high standards of community benefits. In forming Project Review Committees to select developers and see projects through the BRA's Article 80 review process, the RSMPOC can ensure community voices are heard through to construction.
Sifting through meeting minutes and witnessing heated arguments at RSMPOC meetings this summer, I have come to appreciate the wonderful, messy process of community-driven development. Despite the RSMPOC's challenges, I see great value in the committee. Though appointed by the mayor, the committee is ultimately responsible and accountable to the community. The RSMPOC can additionally be understood as a facilitator—a means to enable continuous conversation (and yes, often disagreement) between community members, the city and developers. When problems arise, the committee serves as a critical intermediary in negotiations.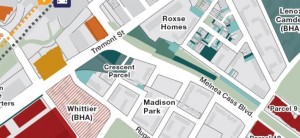 Roxbury's vacant Crescent Parcel can be used as an illustrative example of the aspirational processes of the RSMPOC.  In recent meetings I attended, the BRA and RSMPOC have been collaborating to develop an RFP for the Crescent Parcel. Ongoing discussions have centered on broad development goals, site usage, design and height requirements, hiring goals, job training programs, affordable housing, M/WBEs, and other community benefits. Though early in the disposition process, these conversations will help ensure that current residents of Roxbury experience the economic benefits of Crescent Parcel development. Through these collaborative processes, the Crescent Parcel RFP will be released articulating clear community expectations— hopefully agreed upon with the developer in early stages—so that unfortunate project stalling and conflict can be avoided.
The RSMPOC's system of community-driven development is imperfect—residents get angry, projects are interrupted, and community benefits aren't always realized. Yet the mere existence of a group like the RSMPOC is hopeful—important questions are being asked, and important conversations are being had. What kinds of business does Roxbury want and need? What kind of housing best serves this community? How can we ensure good jobs for our residents? Even without inventing panaceas and finding concrete answers to these types of questions, there is exceptional value in citizen-led groups like the RSMPOC. The process of neighborhood revitalization might always be somewhat chaotic, messy, and disorganized, but I find this mess encouraging. By facilitating collaboration and discussion surrounding development in Roxbury, the RSMPOC offers Roxbury hope for a vibrant, thriving neighborhood once again.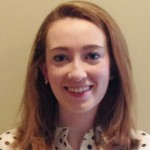 KATHLEEN O'SHEA: As a summer intern at TACC, Kathleen provided technical assistance to the Roxbury Strategic Master Plan Oversight Committee in the form of several research projects. In addition to parcel-specific projects, Kathleen compiled overviews of the RSMPOC's responsibilities, history, accomplishments, challenges, and future objectives. She is a rising senior at Boston College studying History and International Studies and plans to continue community development and neighborhood revitalization work after college. She joined TACC as a participant in the Carroll School of Management's Corcoran Center for Real Estate and Urban Action internship program at Boston College.